Our Inspiration
Small Pets - Big Hearts, Inc. was inspired by Champ & Tawney, both guinea pigs. We aquired Champ in July 2004, due to the fact that he was paralyzed in the back end & his hind legs were useless. But within two weeks he started regaining feeling in the hindquarters and started walking. Tawney came to us due to severe neurological problems, in December 2004. Although he always had his neurological disorder he still lived life to the fullest, until his passing in 2008.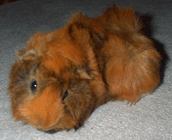 Our Mission Statement
Small Pets-Big Hearts, Inc. is a 501(c)(3) non-profit, all volunteer organization, dedicated to rescuing small exotic pets and placing them into forever homes. Our primary goal is to rescue guinea pigs, hamsters, rabbits, mice, rats, degus, ferrets, chinchillas, hedgehogs, sugar gliders, reptiles, and birds. We specialize in the care of disabled and/or special needs animals. We will also provide hospice for elderly pets, providing them comfort and love for their remaining life. We are a no-kill rescue; euthanasia will only be utilized upon veterinarian recommendation due to terminal illness and/or suffering. We will collaborate with local shelters, rescues, and veterinarians. All rescued animals will receive proper veterinary care. It is anticipated that with proper care and socialization, we will be able to place the majority of our rescued animals into new forever homes. To this end, we will educate new owners about the proper care for their pets and advise what veterinary services are available.

We are a foster network based rescue, therefore, all of the rescues are housed within temporary residential foster homes. Our foster network spans all around the Western New York area. All rescues are seen by veterinarians prior to being placed up for adoption. Anyone ill, injured or in need or treatment will receive it. We also have all male sugar gliders and rabbits spayed and neutered. They are wonderful vets and their staff is fanastic! All rescues receive proper diet, housing, water, toys, enrichment and of course TLC. Through Petfinder and our adoption process, all rescues find loving homes. Once in a while a rescue may stay with us in foster care if they have major health issues needing our attention and specialization. No matter what, each individual rescue is unique in our eyes, and deserving of happiness and love!